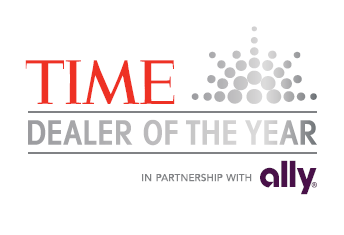 TIME AND ALLY FINANCIAL HONOR PITTSFIELD DEALER
Gary Johnson Wins National Recognition for Community Service
and Industry Accomplishments at NADA Convention
(New York, NY, October 24, 2016) - The nomination of Gary Johnson, chairman of the Johnson Dealerships Inc., a Ford and Lincoln dealer in Pittsfield, Massachusetts, for the 2017 TIME Dealer of the Year award was announced today by TIME. 
Johnson is one of a select group of 49 dealer nominees from across the country who will be honored at the 100th annual National Automobile Dealers Association (NADA) Convention & Exposition in New Orleans, Louisiana, on January 27, 2017. The announcement of this year's nominees was made by Meredith Long, SVP : GM, News & Luxury, TIME, and Tim Russi, president of Auto Finance for Ally Financial.
"We are excited about the extraordinary group of nominees that are in the running for the 2017 TIME Dealer of the Year award," said Russi. "These dealers have been recognized for the ways that they 'do it right' in their communities, and we look forward to sharing their stories over the next few months and celebrating their accomplishments at the NADA convention in January."
In its sixth year as exclusive sponsor, Ally will recognize dealer nominees and their community efforts by contributing $1,000 to each nominee's 501(c)3 charity of choice. Nominees will also be recognized on AllyDealerHeroes.com, which highlights the philanthropic contributions and achievements of TIME Dealer of the Year nominees.
The TIME Dealer of the Year award is one of the automobile industry's most prestigious and highly coveted honors. Recipients are among the nation's most successful auto dealers who also demonstrate a long-standing commitment to community service. Johnson, 71, was chosen to represent the Massachusetts State Automobile Dealers Association in the national competition - one of only 49 auto dealers from 16,000 nationwide - nominated for the 48th annual award. The award is sponsored by TIME in association with Ally Financial, and in cooperation with NADA. A panel of faculty members from the Tauber Institute for Global Operations at the University of Michigan will select one finalist from each of the four NADA regions and one national Dealer of the Year.
--more--
"My family is celebrating 100 years in the automobile business this year," nominee Johnson said. "I am proud to carry on the legacy of my grandfather and father and pass along the love of this industry to my two children."
A 1962 graduate of Pittsfield High School in Pittsfield, Johnson earned an associate degree in business from the Newbury School of Business (now Newbury College) in Boston, Massachusetts, in 1964. He also served in the United States Army Reserve.
Johnson entered the family enterprise in 1960, learning all aspects of the business that his grandfather originally founded in 1916 with a partner to sell and service cars and trucks. That company eventually became the Berkshire Auto Company and later A.C. Johnson Jr. Inc. in 1964 when his father sold his interest in the original company and bought a Lincoln-Mercury dealership. "I worked in all areas of the dealership and in 1967, after my father's unexpected passing, I became dealer principal at age 21," Johnson said.
Today, he is chairman of Johnson Dealerships Inc. and runs the company with son, Christopher, and daughter, Tary. "My children are the fourth generation to take the helm of a Pittsfield car business," Johnson said. "And we are distinguished as the oldest family-owned dealership in Western Massachusetts."
A longtime supporter of the Berkshire United Way, Johnson has donated a car for the group's annual sweepstakes for the past 16 years. "They raise $2 million-plus per year to help more than 20 agencies in the Berkshires," he said. "We have given away 16 cars
and are in the 17th year of the campaign." Johnson received the Ruth P. and Nicholas Boraski Leaders in Philanthropy Award from the Berkshire United Way in 2016 for his efforts.
Other local organizations that Johnson supports include Hancock Shaker Village, a living history museum in Pittsfield; Berkshire County Kids' Place & Violence Prevention Center in Pittsfield; and the famed Tanglewood summer music festival in Lenox, Massachusetts.
Johnson was nominated for the TIME Dealer of the Year award by Robert O'Koniewski, executive vice president of the Massachusetts State Automobile Dealers Association.
He and his wife, Mary, have two children.
About Time Inc. 
Time Inc. (NYSE:TIME) is one of the world's leading media companies, with a monthly global print audience of over 120 million and worldwide digital properties that attract more than 150 million visitors each month, including over 60 websites. Our influential brands include People, Sports Illustrated, InStyle, Time, Real Simple and Southern Living, as well as more than 50 diverse titles in the United Kingdom.
About Ally Financial Inc.
Ally Financial Inc. (NYSE: ALLY) is a leading digital financial services company and a top 25 U.S. financial holding company offering financial products for consumers, businesses, automotive dealers and corporate clients. Ally's legacy dates back to 1919, and the company was redesigned in 2009 with a distinctive brand, innovative approach